reduce water and fertilizer use with All-natural Persist™ biochar and PAF liquid plant enhancer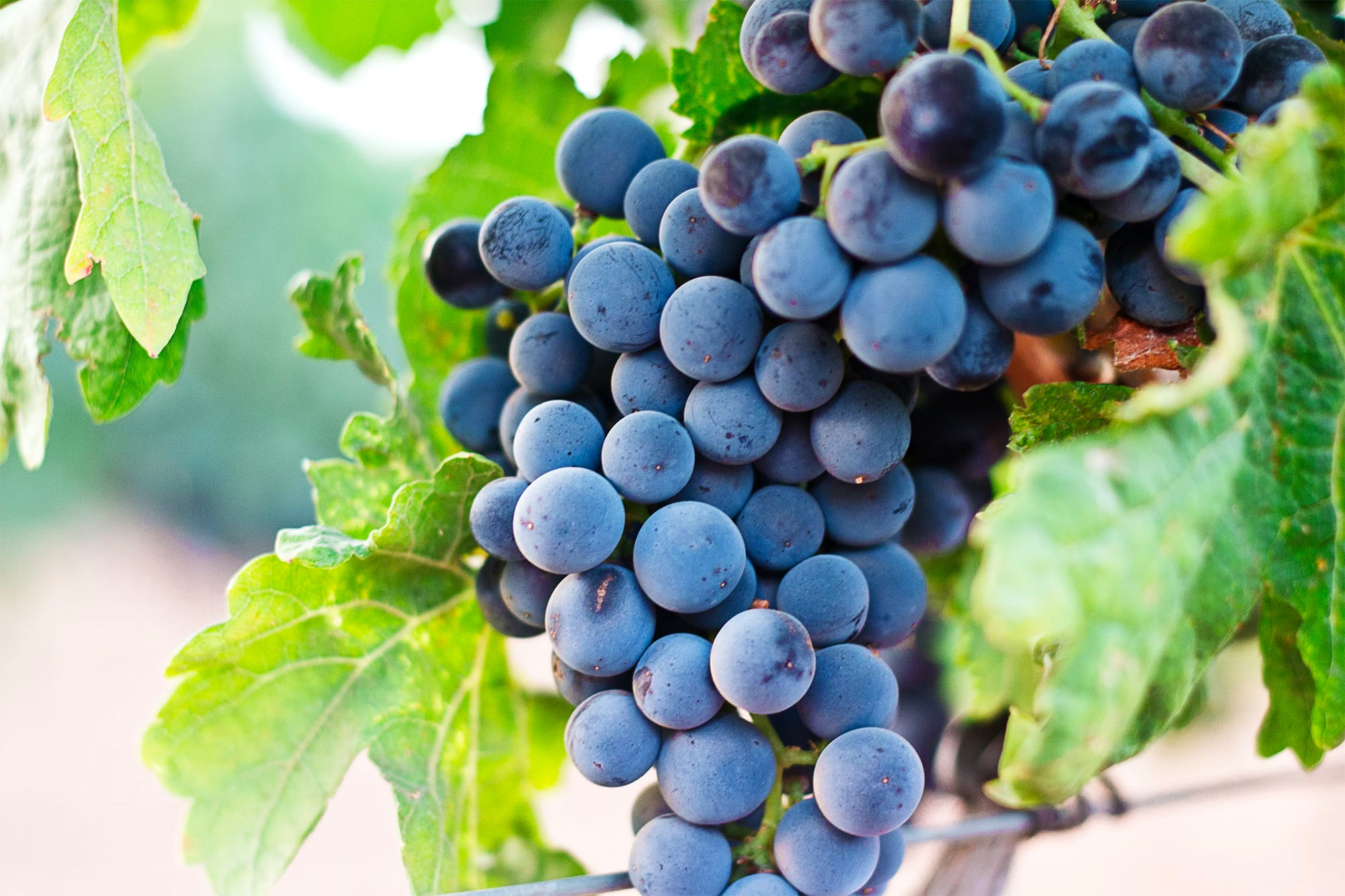 How Persist™ benefits viticulture
The growing need for improved water management is one of the prime benefits seen in vineyards. Biochar's benefits, which are derived from its exceptional porosity and surface area, include:
Increased water retention
Increased soil carbon
Nutrient release leveling
Soil structure management
Soil biota improvement
Soil contamination mitigation
Reduced soil compaction

certified by Puro.earth as a carbon-negative product.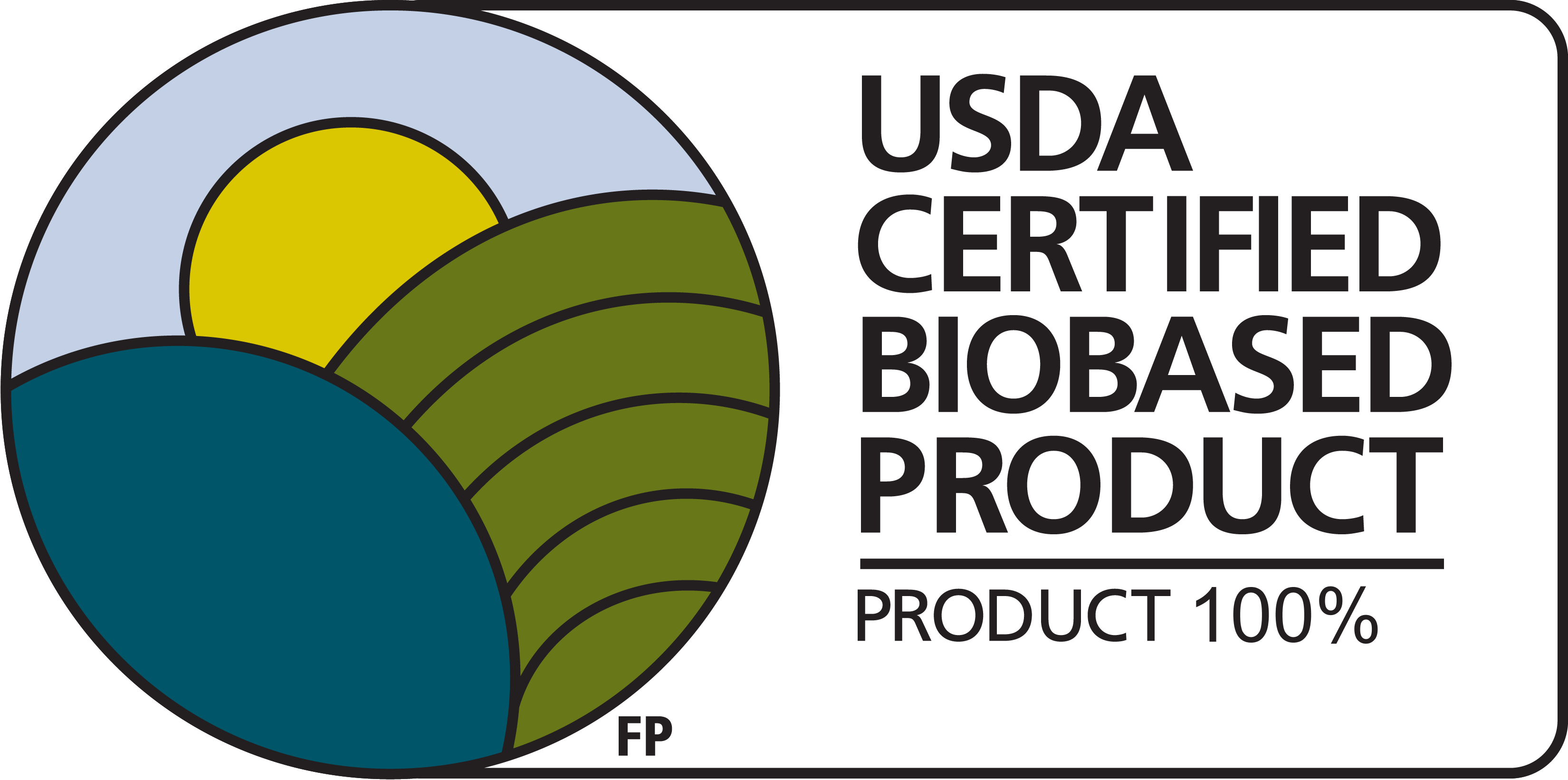 usda certified all-natural, 100% biobased product.

OMRI Listed® for use in certified organic production.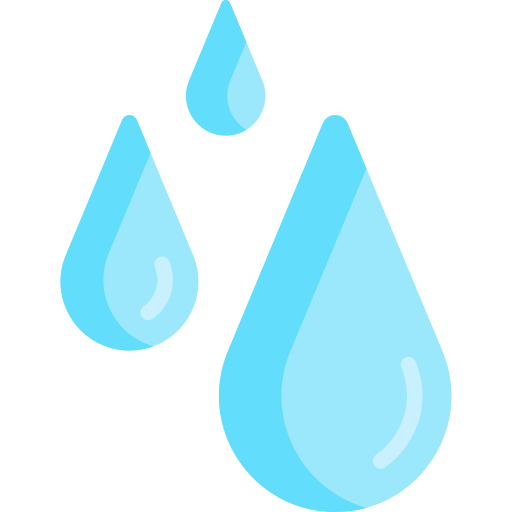 Ultra-Porous Soil Sponge. Persist™  premium biochar  has a massive "surface area-to-volume" ratio, enabling soil to hold water up to 6x longer compared to soil without biochar. One ounce of Persist™ has a surface area equal to 1-1/2 football fields.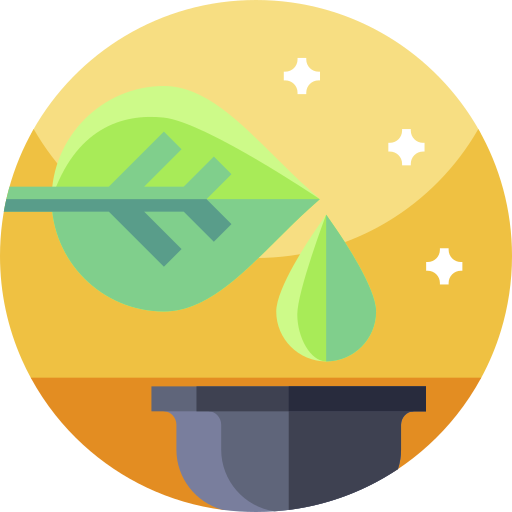 The Coral Reef of the Soil. The microscopic pores of Persist™ biochar provide a home for an abundance of microorganisms in the soil, creating a strong rhizosphere with significant plant beneficial microbiome and enhanced nutrient binding.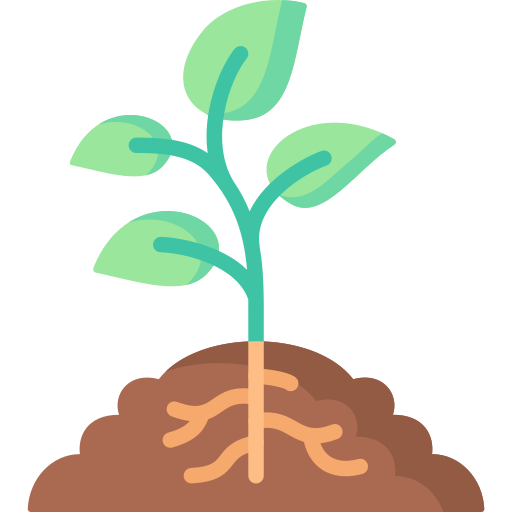 Better Nutrient Utilization. Persist™ PAF liquid plant enhancer improves the availability of minerals and nutrients to plant roots … helping to reduce fertilization while also improving harvest yields (and benefiting the environment)!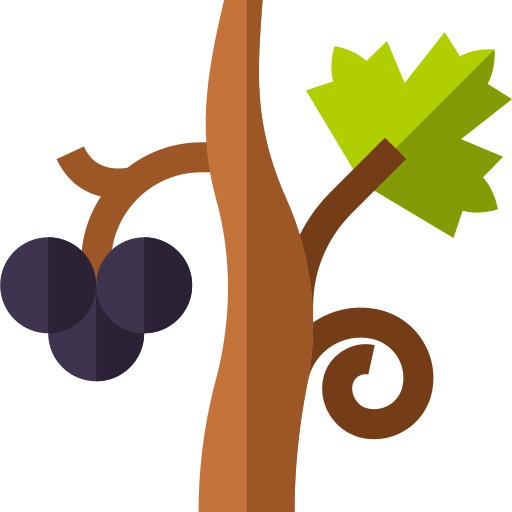 Tougher Grapevines. PAF contains significant amounts of phenols and acetic acid, which have been shown to help plants respond to a variety of stresses including heavy metal contamination, microbial pathogens, heat, and drought.
Let's reverse climate change.
Persist™ biochar is the captured carbon from agricultural waste, which would otherwise decompose in a landfill and release carbon back into the atmosphere. When put in the ground, the carbon is sequestered for generations.
Climate experts estimate that biochar alone could address as much as 40% of the needed carbon removal, while simultaneously mitigating other environmental issues including the impact of drought, fertilizer run-off, and heavy metal contamination of soil.
Persist Premium Biochar ACTS LIKE
A Coral Reef in the soil.
Enhance your soil organically
Holds water up to 6x longer!
Persist™ Premium Biochar enhances the colonization of beneficial microorganisms in soil, which can help you use less fertilizer overall.  Just as the "nooks and crannies" of a coral reef harbor a wide variety of sea life, the microscopic pores of biochar provide home for an abundance of microorganisms, which are critical for long-term soil and plant health.
From a four-year field study in Tuscany, Italy …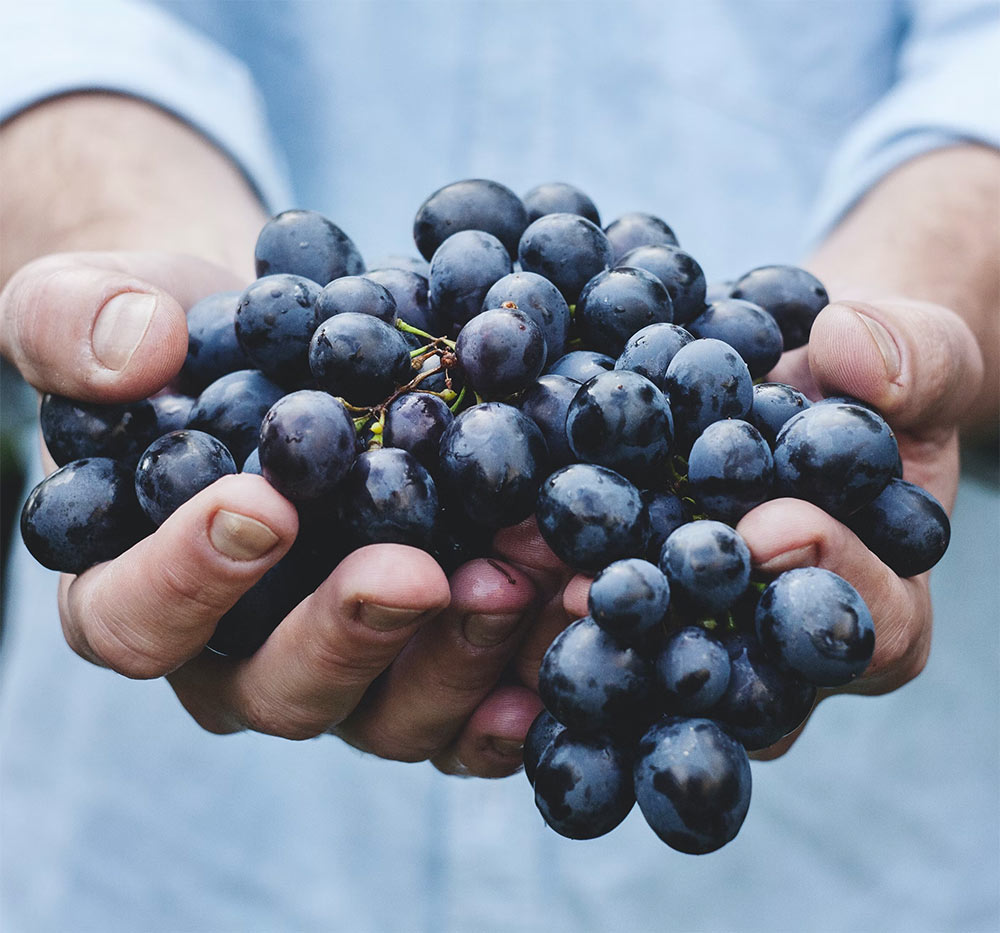 "The effect of biochar application on vine yield and grape quality parameters is here investigated in a non-irrigated vineyard in Tuscany (central Italy). Results from four harvest-years showed a higher productivity, up to 66%, of treated plots with respect to their controls, while no significant differences were observed in grape quality parameters. The observed increase in productivity was inversely correlated with rainfall in the vegetative period, confirming the key role of biochar in regulating plant water availability. These findings support the feasibility of a biochar-based strategy as an effective adaptation measure to reduce the impact of water stress periods with no negative effects on grape quality."
SOURCE: Biochar increases vineyard productivity without affecting grape quality: Results from a four years field experiment in Tuscany; L. Genesio, F. Miglietta, S. Baronti, F. Vaccari; Agriculture, Ecosystems and Environment 201 (2015) 20–25; http://dx.doi.org/10.1016/j.agee.2014.11.021
Persist™ Biochar Advantages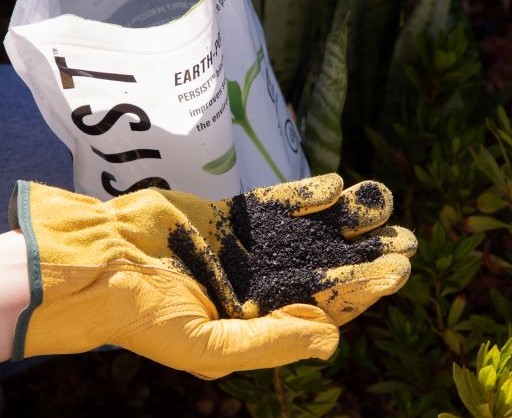 Retains water in soil 6x longer than soil without biochar.
Produced from 100% California-grown pistachio shells — a waste product otherwise destined for the landfill.
Carbon content greater than 90%, which is significantly higher than most other brands of biochar.
Higher porosity and surface area-to-volume ratio compared to other biochars on the market.
Low ash and VOC content.
Consistent particle size distribution.
Available in a 3-quart bag, 1.5 cubic foot bag, and 2.0 cubic yard supersack.
Persist can be manufactured with alternate feedstocks, specific particle sizes, and other custom requirements.
CAUTION: Not all biochars are the same. Biochar characteristics, including carbon and ash content, should be verified with a lab analysis.
How to use Persist™ in your vineyard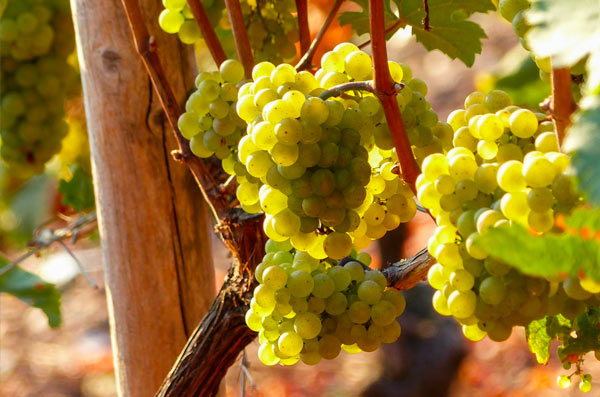 New Vine Planting
For new plantings, biochar can be used as a nursery or rootstock growing medium and/or as a bulk soil additive.
Persist™ biochar is best mixed with compost and planting soil prior to application, at a rate of 10 to 20% by volume. Assuming 1000 vines per acre and a typical 10 liter hole for each vine, the amount of biochar required is about 4-5 tons per acre.
Biochar can be hand mixed at the bore hole, or bulk mixed off-site with compost and/or planting soil and brought to the site.
Persist™ PAF should be applied after planting and periodically throughout the life of a plant. An initial soaking spray at a good volume of flow is the best way to start; this will help both young plants as well as germination of seeds.
PAF is concentrated and must be diluted to around a 1:500 ratio before application by foliar or soaking spray. (a dilution rate of 1:500 means one-part PAF diluted with 500 parts of water).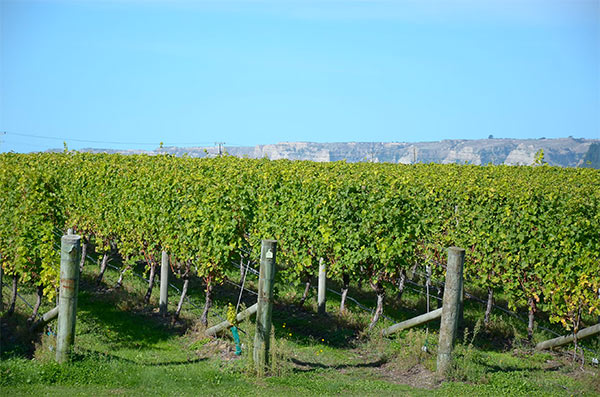 Maintenance and Rehabilitation
A customary practice for many growers is to apply a top dressing and mulch covering along the rows of vines annually, which is typically done using a side delivery bulk feeder.
A typical mix is 50% compost, 10% biochar, and 40% mulch by volume. 8-10 tons of biochar are typically needed.
If interplanting cover crops as part of this process, the seeds can be premixed with the biochar/compost mix being broadcasted.
Persist™ PAF should be sprayed lightly every few weeks. Spray the leaves and the ground around the stem, giving the spray 30 minutes to 1 hour to act on the leaves, before rinsing off the plant with water. It is best to spray early in the day, rinsing the plant off before the strong sun.
PAF is concentrated and must be diluted to around a 1:500 ratio before application by foliar or soaking spray. (a dilution rate of 1:500 means one-part PAF diluted with 500 parts of water).
Purchase Persist Products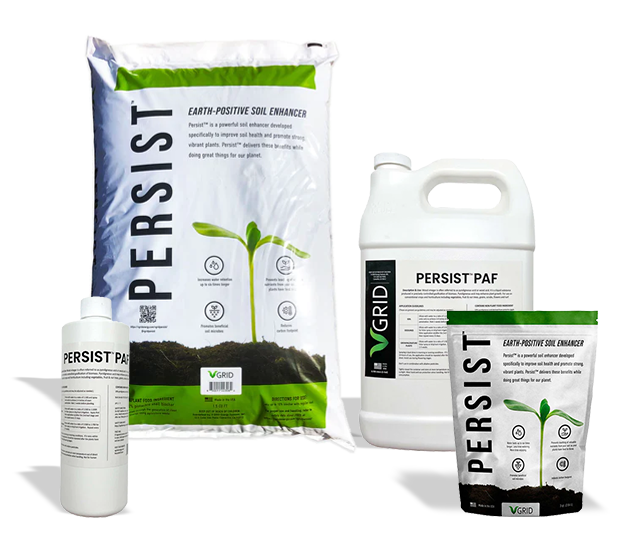 Persist Residential Products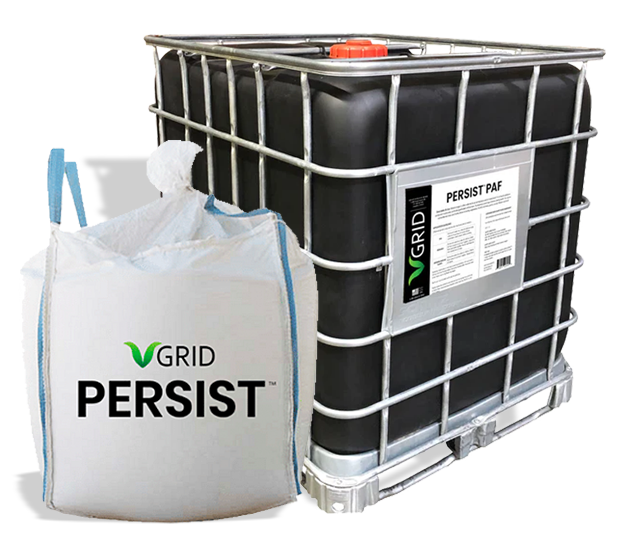 Persist Commercial Products in Bulk
Contact Us for Full Truckload Pricing